神戸倶楽部ショー
2021.10.15(Fri) - 2021.10.17 (Sun)
---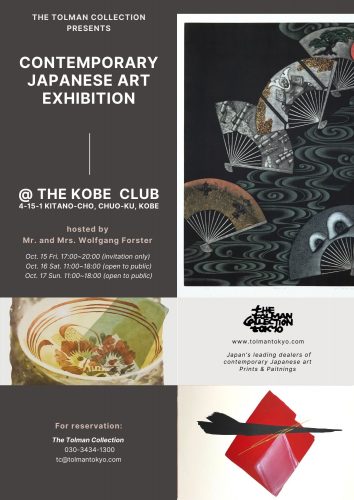 Dear Clients of The Tolman Collection living in Kansai
Our Tolman Collection, now approaching its 50 year mark, has taken part in exhibitions on a regular basis. We have shown the wonderful pieces that Japanese artists have made just for us all around the world. At one time, we had developed a large number of clients who were as interested in Japanese prints as our Tokyo clients and on half-a-dozen occasion packed up a large number of works, both framed and unframed and transported our Tolman Collection scene to The Kobe Club.
This was made possible since we always had the co-operation of locally based print lovers who agreed to be our sponsors and handle the Kansai end of our business, the preparations for an enlarged exhibit at the Kobe Club, and many aspects of what makes an Art Show worth the efforts.
Recently we have be approached by Cyd Forster and her husband Wolfgang to give another try at the Kobe Club which we have secured for a showing on xxxxxx and xxxxx. We have not done a showing in Kansai for some time but we still remember how to handle the transporting of prints…some framed and some unframed….and the setting up of an exhibit to suit the audience who does not often get a chance to see what is happening in Japanese art now. We are willing to see if there are still those people who are missing the chance to see this important part of Japanese culture to which we have devoted almost 50 years of effort.
We hope that those who are former clients will be happy to hear that we are back, and that those who have only heard about us will also avail themselves of our presence in Kobe on October 15th until October 17th and will make the effort to come and have a look and see what is happening in Japanese prints nowadays.
We will be waiting to meet you again
Norman Tolman
and Eiji,Daisuke, Kiyo, Shin and Mr. Go….all of whom are waiting to meet you and show you what you have been waiting to see for all this time.